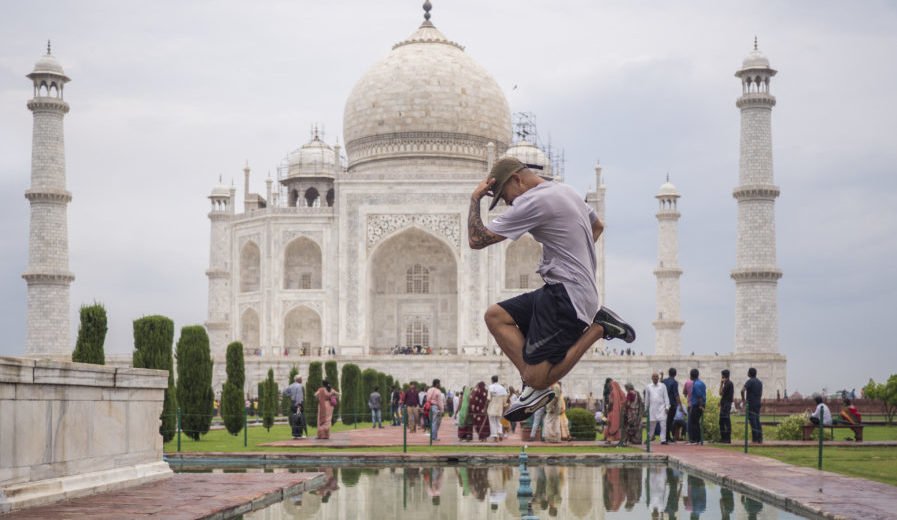 New Features of the Online Courses!
Posted by

Date

September 12, 2018
In case you're curious, I'll be going over some of the distinctions between the old Online Classes and the new and improved Online Courses:
If you take a quick peruse through the "Course Features" page, you'll notice that 5 new "Modules" will soon replace the 119 Weeks of Online Classes that I created and distributed over the last 4 years. If you haven't already seen these Modules, they are:
Footwork Mastery (Expanded and Revised)
Floorwork (Volumes 1-2)
Loft-Inspired Freestyle
Jacking Style
Groove Series (Hip Hop and House grooves)
Each Module is its own complete, structured, progressive series, where specific things are worked on and expanded upon each week. In other words, each week we build upon the material offered to you in the previous week(s). Once you have a strong foundation of the basics for that particular style, I hand you more building blocks until you have everything you need to develop your freestyle, so that by the end of it, depending on how thoroughly you go through the material and how committed you are to doing the homework (literally, I'll be assigning weekly tasks and challenges), you'll know how to freestyle footwork or floorwork or jacking, and so on.
Why is this a big deal?
Well, for starters, I don't know where else in the world you'll be able to learn how to dance house in such a premeditated and methodical way. Pretty much any dance studio that offers house classes that you can drop into whenever you want for about $15 a class (which comes out to about $60/month) will most likely be covering the same sort of general information every week – some choreography, some new moves, and basically just a bunch of busy work that doesn't really guide your growth as a freestyle dancer so much. The reason for this has nothing to do with the skill level of the instructor, but rather the nature of open (drop-in-anytime) classes, where the instructor has to juggle newcomers, "irregulars" (students who show up to class every now and then), and intermediate to advanced students. Trust me, I know how that is – I taught at studios in the San Francisco Bay Area for nearly 15 years! And the whole reason my online tutorials began in the first place was because I was tired of having to teach the same beginner steps every week. So I made my first online tutorial videos for my in-studio-class students so that they could practice them at home and allow me to move on to the more interesting stuff.
Eventually I stopped bothering to teach beginner stuff altogether and began teaching intermediate-level classes, no matter who came to class. I found that most students enjoyed a challenge and a work out. But while some students excelled in picking up my choreography, I found they weren't growing as much in their abilities with respect to freestyle. Therefore, I created the Footwork Mastery Style Course, which helped hundreds of students learn to freestyle quickly.
So what's the difference between these new Online Courses and the Footwork Mastery Style Course? Actually, they're based on the same principles of teaching. I discovered that the most helpful thing for students learning freestyle is not to throw a bunch of moves and choreography at them, but to help them understand how the moves fit together. These new Online Courses, much like the original Footwork Mastery Style Course, are centered on theory and methods in freestyle. Only now, I've decided to create a course for each technique (e.g. floor work, grooving) and sub-style (e.g. footwork, jacking, lofting-inspired, etc.).
With all that said, here's a more comprehensive list of new features that are coming with these Modules.
1. New Warm-Up Videos – my original 5-Minute Warm-Up video on YouTube has always been such a favorite that I haven't needed to update it in 6 years. But now you'll get a new one every month!
2. Cool Down Videos – In addition to new warm-up videos each month, we'll also do post-workout stretches to maintain or increase your flexibility during the learning process!
3. New Music – No more generic, monotonous music! No more mind-numbing drum loops! For these new Online Courses I'm collaborating with a few amazing house music artists to make sure we warm-up, drill, and practice to real, dope house tracks.
4. Freestyle Practice – You and I will go back and forth in freestyle practice exercises I've specifically designed so that you can get used to integrating the new moves and concepts you learn every week into your dance.
5. Drill-Along Combos – Repetition is a necessary part of improving your technique and remembering your moves. Now you won't have have to do them alone, as I will be drilling along with you. Not to mention, it makes for a great cardio workout!
6. Musicality Training – Every few weeks we will dive into a new lesson on musicality. Develop your ear for house music, refine the feel and quality of your movements, and explore the different ways your body can express what you hear.
7. Lessons in Styling – In addition to musicality training, I will also get you thinking about elements and concepts that can give focus or direction to your freestyle. Remember that freestyling is simply "instant composing." These concept-focused "styling" trainings and exercises will expand the way you think about creating!
8. Homework & Feedback – Each week you and your cohort will be given homework assignments, some of which will ask you to upload progress videos of yourselves to the Secret House Society forum (accessible only to students in your cohort). You will get feedback from me through private messages. But also, you and your fellow classmates can provide helpful comments on one another's work for extra credit points!
9. A Collaborative Learning Environment – Unlike the old online classes where you could sign up anytime, these new courses open registration only twice a year: once in the fall, and once in the spring. Therefore students who enroll start the course at the same time and go through each week together.  Each Module's assignments are designed to encourage students to work in partners or groups through the learning material.
10. Secret House Society – You may have noticed the new "Community" forum page on the website. While most sections of the forum (such as Events and Practices, Music, History, etc.) will be open to the public to join, the Secret House Society will be viewable and accessible only to enrolled students!
This will be our spot to exchange with one another. As mentioned above, for some assignments you may even be asked to partner up and work collaboratively!
Well, those are all the new features I can think of off the top of my head. I'm sure you'll be surprised by more as we move through the Courses! Anyway I hope you're feeling as excited as I am to begin this new journey together! Please let me know if you have any questions and feel free to leave comments.
Peace!
-Jardy